Top tips from Thailand's toughest trail runners on beating the heat and going the distance
From eating sticky rice and spicy papaya salad before a race to running in all kinds of temperatures, athletes from Thailand, Hong Kong and France reveal the secrets to speed and endurance
PUBLISHED : Wednesday, 21 February, 2018, 6:45pm
UPDATED : Friday, 23 February, 2018, 10:22am
This month, about 2,700 people from 50 countries took part in The North Face (TNF) 100km trail race in a grassy corner of Nakhon Ratchasima province northeast of the capital, Bangkok.
What does it take to go the distance on a Thai trail – whether it's 10km or 100km – and also do well, and win?
The day before the race, Sanya Khanchai, a two-time overall winner of TNF's 100km race, explained his surprisingly simple training diet.
"I'm OK eating sticky rice and som tam [spicy papaya salad] for my meals and snacks and bread from convenience stores to keep me going," the Thai runner said.
Does the veteran runner consume copious amounts of beetroot juice, hazelnut butter and multigrain bread? No. Even the night before race day, he said he would eat a dinner of rice and grilled fish, then wake up at 1am and eat sticky rice, before his 100km race at 5am. A tough simplicity characterises the 44-year-old's approach to running.
"I try to run in all kinds of weather and temperatures to get my body used to different conditions, including rain, heat and cold, and on trails and roads."
Diversifying his training prepares him for the trail, where conditions can be unpredictable. Khanchai's many race wins drew the attention of corporate sponsors, whose support now helps him train full-time.
After work on Friday, I fly to Chiang Mai. I run on Saturday all day, 10 or 12 hours. Also [on] Sunday. And then [on] Monday morning, I fly back to work
"I do two-hour training sessions three times a day. A morning run of about 19km, then a run while dragging a tyre tied to my waist, then a late-night run," he explained. He dismissed the notion that not everyone has the time as he does to train so much.
"If you can eat three meals a day, you can train three times a day," he said with a smile. Make time for training so that it becomes a regular part of your day, he says, adding that if completing or winning a trail race is your goal, you might have to give up some nights out with friends.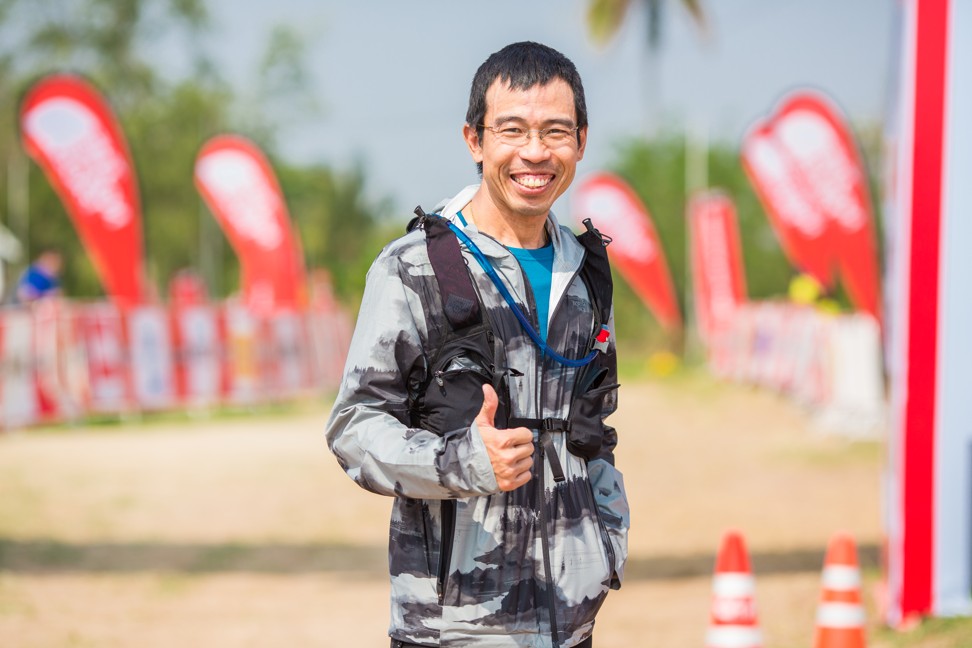 Chumphol "Dr Jung" Krootkaew, 47,
"I'm a full-time researcher. So I had to decide to run to work. I run, or sometimes bike, about 26km, two or three times a week. I did that for training," he said, pointing out that he also runs on roads and along canal paths.
Such terrain is nothing like the country trails, which is why Jung flies to Chiang Mai in the north once or twice a month to get in some serious trail time.
"After work on Friday, I fly to Chiang Mai. I run on Saturday all day, 10 or 12 hours. Also [on] Sunday. And then [on] Monday morning, I fly back to work," he said. "Everything should be gradual. We have to take time. Train and rest and train more. But gradually increase the training," he advises.
Like Khanchai, Jung's eating habits are healthy, but not out of the ordinary.
"I try to reduce carbohydrates and reduce sugar, but humans like sweets, so sometimes I'll take ice cream or the things that I like. But if I take sweets, I'll reduce carbs. Try to eat a lot of vegetables and fruits," he advises, "and try to take fish as the first choice."
Carole Fuchs, 38, a mountain climber, trail runner and former Ironman athlete, said that she leaves Bangkok – where she is based – as often as possible to train, to escape the capital's pollution and heat. When she can't leave, the French lawyer makes the most of what is around her.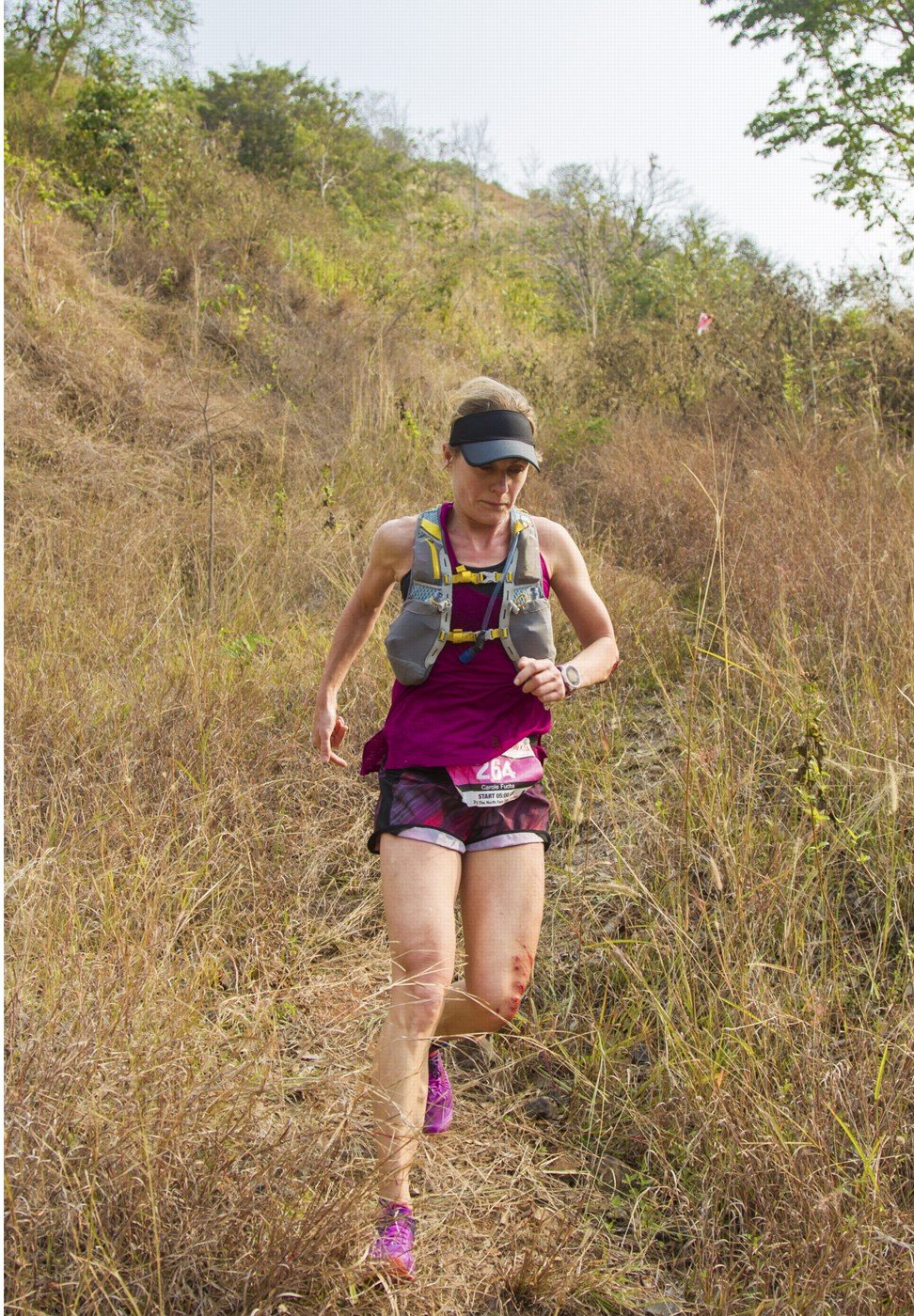 "Sometimes I go for four hours and run in the park and I try to make it fun.
I do one hour on the treadmill, go to Lumpini [Park], come back to the treadmill. Just mixing everything."
Fuchs, who last year was the overall female winner of TNF's 50km race, acknowledges that training in Thai heat has its benefits.
I see some people who just overdo it and it becomes counterproductive. They get injured. They lose motivation
Called "the poor man's altitude training" by some, running in high temperatures makes the lungs work harder to acquire oxygen. Fuchs said it helps her get used to running longer distances.
"The heat is also helping me for my high-altitude training because it's a very similar oxygen-deprivation environment," she says.
She also keeps an eye on her food intake for her energy levels.
"If I am training for a short distance I will eat more carbs. If I train for a long distance, I will eat less carbs, to get the body used to using fat. Now I am on a high-fat diet and no carbs. So you can see me eating a block of cheese, or something like that. It's to train the body to eat the fat and not be just dependent on the sugar level," she says.
"On the race day I eat almost nothing for breakfast. I eat at night and then I just take a banana cake. No coffee. I don't have coffee for about a week before a race to starve my body of caffeine. Coffee may disturb your digestion so you might go for a toilet break. It's a bit irritating."
Fuchs recommends seeking a coach or experienced runner to monitor your training.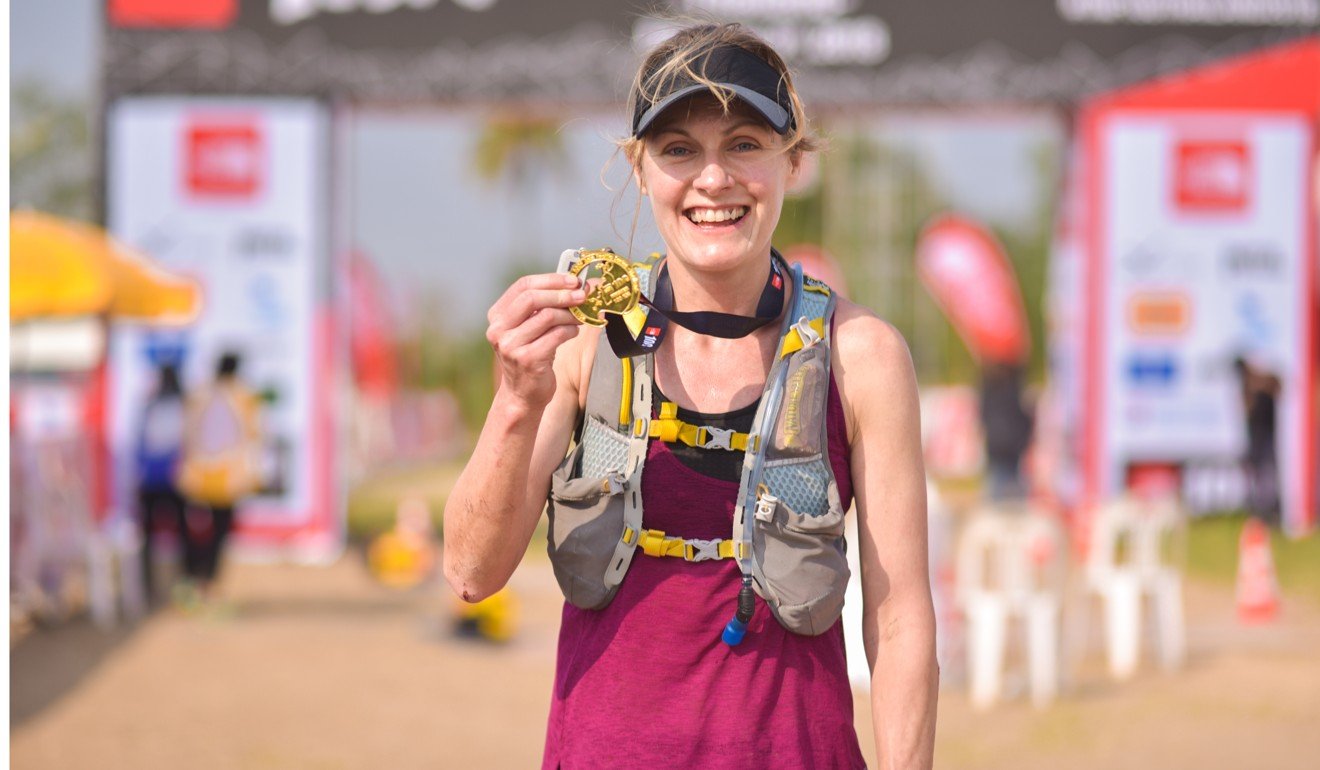 "I see some people who just overdo it and it becomes counterproductive.
They get injured. They lose motivation," she says.
Her suggestion: have someone with experience who can ask:
"Should you take a rest? Should you race as much?"
Hong Kong ultra runner Wyan Chow Pui-yan, who works as a physical trainer for the Hong Kong Police Force, flew in to join the 50km race. Many Hong Kong trails are paved and have hard stairs which can be tough on the knees when running long distances, she says.
"It'll be better [in Thailand] because we run on the grass and a real trail. It's better than running in Hong Kong."
The 41-year-old attempted the Vibram Hong Kong 100 Ultra Trail Race in January, but "DNF"'ed (Did Not Finish) due to knee pain.
Three years ago, Chow was the overall female winner of the Vibram 100km race. She offers down-to-earth advice: "I focus on the direction I'm going. I focus on my heartbeat, breathing, the nature [around me]. It's already a kind of meditation when you race. Smile while you run and you can easily overcome things. And stay positive."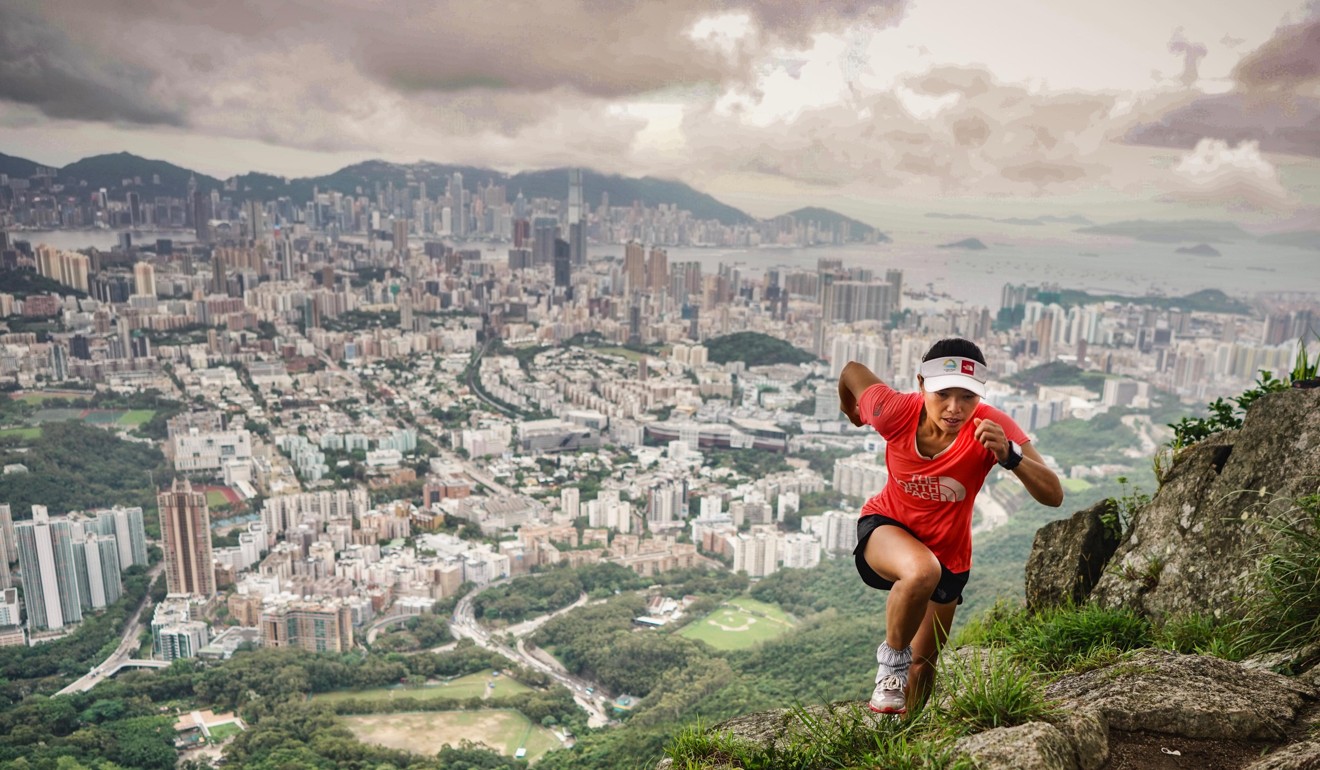 "I was eating something every hour – chocolate bars, sweets. That helped," she said.
A little later, Khanchai finished, coming in fourth place and looking frustrated.
"My time was better than last year but I felt heavier and slower," he said later, as he ate fried rice and somtam. "I don't drink beer after races, but spicy food relaxes me."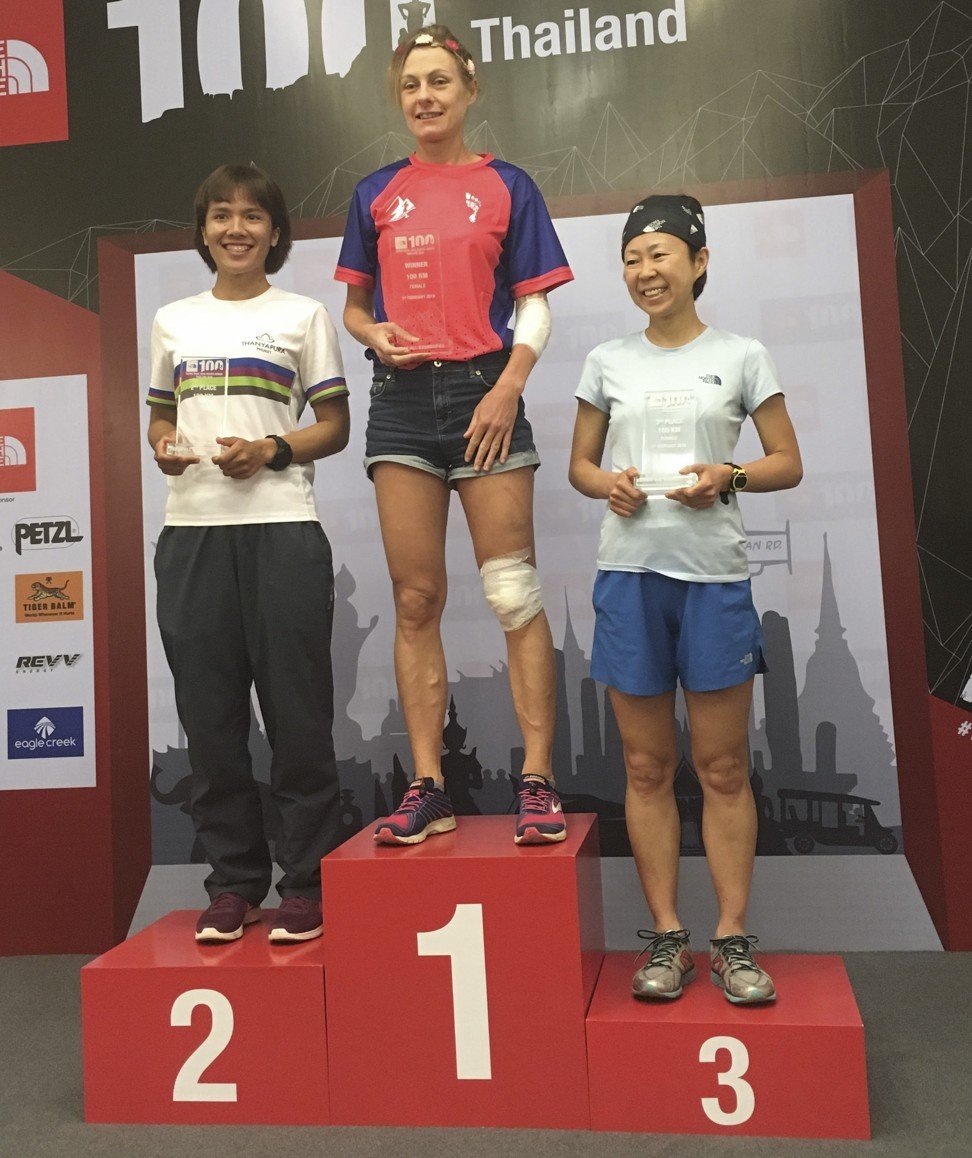 "I feel like my body hadn't fully recovered from last week.
So today I ran 20km and then just did a walk for five, and then DNF," Chow said.
Jung planned to run the Kyoto marathon later in the month, while Chow is heading to South Korea in May for a TNF 100km – twice the distance she was attempting this time out.
On Sunday morning at the 100km race awards ceremony, Fuchs enjoyed her victory: "I was quite happy that I got to the finish line in first place. It showed that my training was good. My nutrition strategy, everything went perfectly. I'm very happy about it."